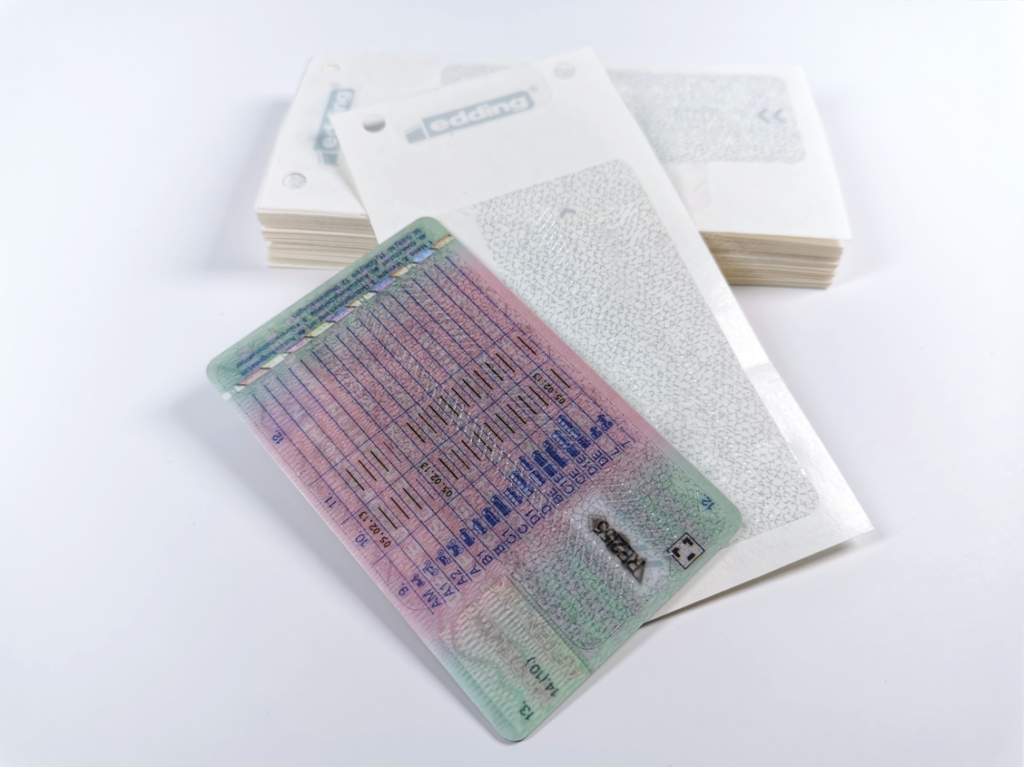 Prismade launches security labels with transparent printed electronics to secure documents via smartphones
08.04.2021
Prismade (Printed Smart Devices) has brought its PrismaID technology to a new level. The new solution aims to protect valuable and sensitive documents like cards, contracts or certificates with an easy-to-use security label and connect them to digital services. This innovative technology is a scalable B2B solution offered to businesses with a high need of authentication and discretion during document related processes.
The essential part of the PrismaID label is a patented, printed transparent digital code. After this label has been applied to a document, it is used as a secure proof-of-presence and a key to authenticate or access digital services tied to the document. To activate the key, the document with the attached label is simply placed on a smartphone. On a verification website, the printed code will then be verified just by a swipe using the touchscreen sensor of the smartphone. This creates a straightforward and highly accessible security and verification tool, that anyone with a smartphone can use, even without prior knowledge about the document. "Unlike optical solutions, that use for example a QR code and thus can be easily copied, Prismade's printed electronics ensures a much higher level of security and fraud protection", adds Dr. Karin Weigelt, Co-founder and managing director at Prismade Labs. First customers already use the new ink-based technology, e.g. for the fleet management in large companies.
The PrismaID label uses ink based on the CleviosTM, the pioneering conductive polymer especially formulated for screen printing by Heraeus Epurio. Metal-free, thin, and highly transparent printed layers exhibit excellent flexibility and conductivity. "Prismade's security label technology is a creative demonstration of next-generation document security and authentication. Heraeus is looking forward to developing further innovations with Prismade using CleviosTM", said Dr. Armin Sautter, Global Head of Technical Service for Display, Heraeus Epurio.
This new type of interactive document protection is a technological synergy between transparent printed electronics, haptic feedback and forgery-proof adhesive security labels. As one of Germany's key developers of printed electronics, Witte Group has contributed major research results in printing this product novelty. Manufactured by S2S (sheet-to-sheet) printing on a flexible polymer substrate with strong adhesives and advanced security die cuts, the security label cannot be removed or transferred intactly to another underlaying document. The production of the PrismaID label can be scaled up to significant industrial volumes thanks to the fully automatic print production line and the highly efficient Prismade technology core.
"The Prismade security label technology is closing the gap between the underlaying document and everyone's smartphone on a high security level. Witte Group is looking forward to upcoming product developments in cooperation with Prismade sharing experience, know-how and production capacities." says Dr. Philip Renners, Vice President Research & Development, Witte Group.
The first product with this new technology has just been launched by edding:
"easycheck" – the digital business solution for fleet management. edding's easycheck application digitises and automates statutory driving licence check processes using the Prismade security label and the corresponding software interface, thereby creating legal certainty. The product is ideal for fleets, where driving licences were previously verified manually by visual inspection. Seven companies with over 300 drivers are currently already using edding's Software-as-a-Service (SaaS) solution.
The partners now aim for the next markets with notary certified contracts, birth certificates, land ownership documents and vaccination certificates, which would strongly benefit of digitization and increased security.

Prismade is actively exploring the markets for further applications for this unique approach and welcomes any inquiries and open discussions to license the new technology platform.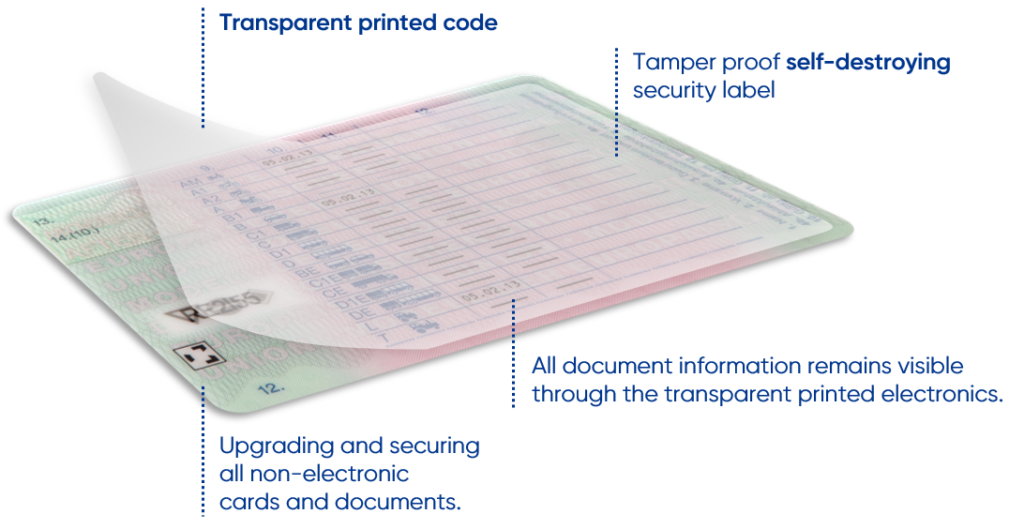 About Prismade Labs – future lab of edding:
Prismade (Printed Smart Devices) is a technology developer specializing in printed electronics and interactive features. Founded in 2016 with more than 10 years of experience, we use conventional printing methods to embed secure, electronic identification tags in everyday print products creating unexpected and disruptive product features for many industries. Prismade works with global security providers to embed its highly flexible technology toolkit into their manufacturing lines and products. Our interactive ID technologies are more secure than optical recognition systems and available at lower cost than RFID and NFC.
Prismade introduces its PrismaID technology as a novel approach to secure, interactive authentication, available on every smartphone. www.prismade.com
About Heraeus:
Heraeus, the technology group headquartered in Hanau, Germany, is a leading international family-owned portfolio company. The company's roots go back to a family pharmacy started in 1660. Today, the Heraeus group includes businesses in the environmental, electronics, health and industrial applications sectors. Customers benefit from innovative technologies and solutions based on broad materials expertise and technological leadership.
In the 2019 financial year, Heraeus generated revenues of € 22.4 billion with approximately 14,900 employees in 40 countries. Heraeus is now one of the top 10 family-owned companies in Germany and holds a leading position in its global markets.
Heraeus Epurio is the technology and market leader in essential materials for capacitor, display, and photoresist applications, producing Clevios, the pioneering standard for conductive polymers with over 30 years of demonstrated success; and ultra-pure specialty chemicals, which are a critical component in the semiconductor industry. www.heraeus-epurio.com
About Witte Group:
The Witte Group is a leading industrial and security printing company producing forgery-proof and copy-proof, self-adhesive marking systems, official documents and vehicle safety products with approx. 130 employees in Germany and 400 employees in Mexico.
The Witte Group has been working in the future-oriented field of Printed Electronics since 2017, specializing in the combination of printed components and adhesive security labels. Witte is an experienced partner for printing processes such as screen, flexo, gravure and inject printing of both insulating, electrically conductive and semi-conductive inks. From summer 2021 onwards Witte can provide full automatic Printed Electronics sheet-to-sheet (S2S) productions under cleanroom conditions. https://www.witte-group.de